DUG is proud to partner with the ARC Training Centre for Next Gen Technologies in Biomedical Analysis (ARC), which was officially launched in Perth at The University of Western Australia (UWA) on 4 May 2023.
ARC, a groundbreaking initiative led by UWA, has been awarded over $4 million from the Australian Research Council Industrial Transformation Training Centres scheme. ARC is backed by $12.6 million in funding, in-kind support from DUG and over 20 university and industry partners.
Committed to creating a future-ready workforce for the life sciences industry by delivering innovation and workforce development, ARC is promoting transformative technologies like automation, big data analytics, and artificial intelligence, and fostering Industry 4.0 research training in the workplace.
During the launch event, special guests from the Australian Research Council, UWA, and other industry partners gathered to celebrate this milestone. ARC Chief Executive Officer Ms Judi Zielke PSM introduced some of the exciting initiatives being developed, including the world's first point-of-care sensor for nutrients in breast milk and the delivery of genomics-based healthcare to the community.
A key aspect of ARC's community engagement is its collaboration with the Murlpirrmarra Connection, a not-for-profit organisation focussed on providing educational opportunities to Aboriginal youth in remote WA. ARC will work with Murlpirrmarra Connection to promote science pathways, support on-country education delivery, and assist Aboriginal university students studying at UWA.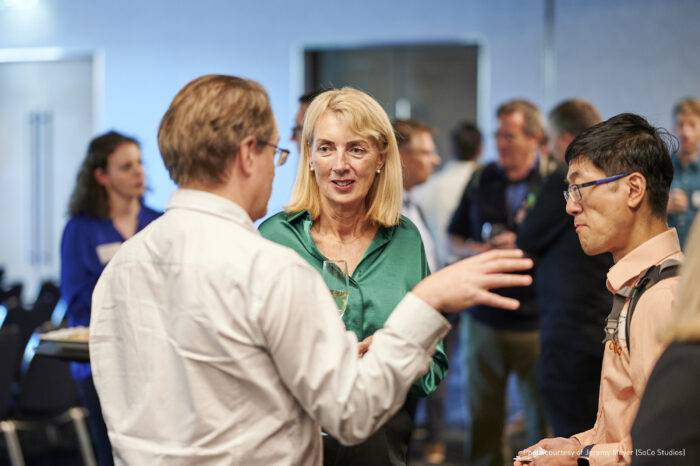 #TeamDUG's Marie Smyth (middle) and Tzu Yen Wong (right) at the event. Photo courtesy of Jeremy Meyer (SoCo Studios).
DUG is excited to be a part of this initiative, delivering tailored and well-supported high performance computing (HPC) solutions, alongside other partners such as the Australian Department of Defence, CSIRO, Harry Perkins Institute of Medical Research, WA Department of Health, and many more. DUG's partnership with ARC will contribute to the development of a skilled workforce in the life sciences industry, paving the way for advancements in pharmaceuticals and diagnostics.
From code onboarding and data access to software optimisation and workflow scaling, DUG's HPC Experts address the needs and challenges of researchers in life sciences, allowing them to focus on their priorities. Click here to read how DUG is helping GenieUs Genomics unlock new solutions for neurodegenerative diseases with precision medicine—DUG's expert support improved the speed, scale and efficiency of their computational workflows, with some parts up to 60 times faster!
Joining forces with the ARC Training Centre, DUG looks forward to fostering a culture of innovation and collaboration, contributing to the empowerment of the Australian life-sciences industry through skilled workforce development—ultimately benefiting the lives of people across the nation and beyond.
Click here to learn more about how DUG is turbocharging research and innovation across a diverse range of applications, from early bushfire detection and accelerating the search for the first stars and galaxies, to enhancing the efficiency and performance of defence vessels.
Main image:
The launch of a new training centre at The University of Western Australia, dedicated to developing the next generation of skilled workers in the life sciences industry. Photo courtesy of Jeremy Meyer (SoCo Studios).