DUG's high-performance compute as a Service (HPCaaS) offers world-class, powerful compute backed by expert support along the entire HPC journey. We strive to simplify our clients' access to our HPC, getting them up and running immediately, enabling them to concentrate on the science. Our HPC support team has industry-leading computational skills, advanced system knowledge and software development expertise.
The DUG team is equally at home with MPI, RoCE, OpenMP, threads, Cuda, ROCm and so much more.  The collaborations we build deliver performance, accuracy and reliability – removing the barriers to research. 
The Monash Computational Chemistry Group undertakes high level quantum calculations on molecular clusters, to macroscale simulations of solvents. HPC is critical to the group's research output.
In the latter half of 2020, Monash Computational Chemistry conducted research using our HPCaaS, specifically looking to examine interactions and parametrise force fields for ionic liquids. Ionic liquids are highly customisable solvents, whose properties can't be predicted from the molecular structure of its constituent ions. Ionic liquids have proven to be valuable solvents in electrochemistry, gas capture and chemical synthesis.
Part of the process is to screen candidate ionic liquids for these applications, which require large scale calculations. With our support and compute, the research group performed both extremely accurate quantum calculations with GAMESS-US software, as well as bulk molecular dynamics simulations using LAMMPS software.
Utilising the DUG McCloud platform and our software support, the software was optimised (threading and vectorisation) for the Intel Xeon Phi compute servers and all calculations ran promptly and smoothly, giving extremely high throughput.
Peter Halat and Thomas Mason of Monash said "Throughout our research, DUG's service team was always prompt to help us out with technical issues, even offering to regularly meet with group members".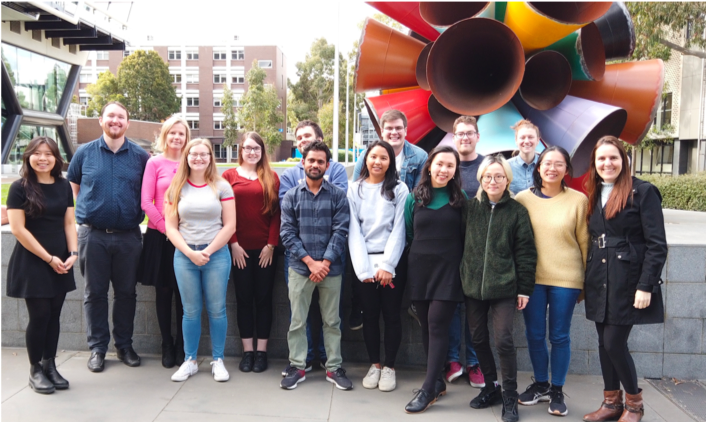 The end results have helped produce new parameters for ionic liquids with strong hydrogen bonding nature, allowing the Monash research group to suggest new candidate ionic liquids for gas capture.
"We thank DUG for all of their help thus far, and look forward to future collaborations."