Congratulations to Australian Laureate Fellow and John Curtin Distinguished Professor Kliti Grice on being named Scientist of the Year at the 2022 Premier's Science Awards, held on Monday August 29.
The awards are a keystone in the Western Australian government's efforts to raise the profile of science, technology, engineering and mathematics (STEM) in Western Australia. Over the years, awards alumni have become important ambassadors for the state, helping to inspire future generations to take up courses and careers in STEM.
Professor Grice is the founding Director of the Curtin-based Western Australian Organic and Isotope Geochemistry Centre, an internationally renowned organic chemist, and a mass extinction and evolution expert who has conducted world-leading research on Earth's early life.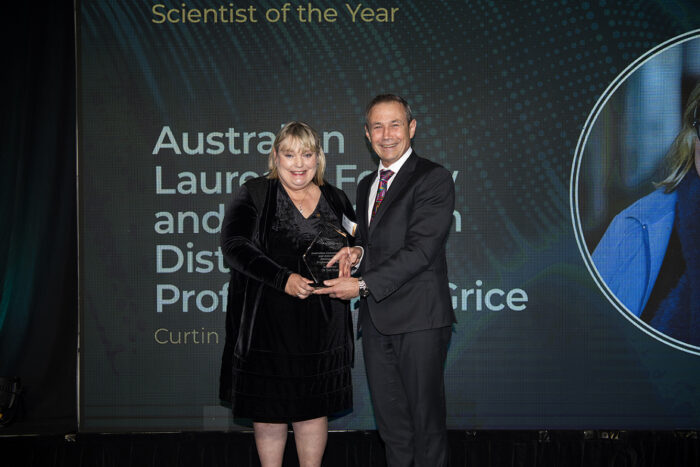 Hon Roger Cook MLA presenting Professor Kliti Grice with the Scientist of the Year award. Credits: Alana Blowfield Photography
A leading Australian scientist and pioneering female in STEM, Professor Grice's research has helped answer long-standing questions about the origins of life on Earth, the evolution of species, the extinction of some dinosaurs, and the extent of microplastic pollution.
The winners of the 2022 Premier's Science Award:
We join the science community in WA in offering our sincerest congratulations to all the winners and finalists.
Main image credits: Alana Blowfield Photography