The technology sector has become increasingly cloud-centric, accelerated by the rapid transition to remote work spurred by the COVID-19 pandemic. As a result, digital transformation has been catalysed at record speeds, shifting many organisations and their entire processes to the cloud, which has subsequently accelerated the adoption of cloud-based high-performance computing (HPC).
"All areas of contemporary research require access to advanced computing capabilities such as big data, data science and HPC," said Professor Andrew Rohl, Head of the School of Electrical Engineering, Computing and Mathematical Sciences, Curtin University. With the rise of big data analytics and artificial intelligence, almost every fast-moving research and science team today leverages the benefits of cloud-based HPC for data processing, facilitating better collaboration, digital dexterity and speed to market.
It is crucial to choose a suitable provider for the successful integration, rollout and use of a cloud within your business. With a huge ecosystem of potential partners, each presenting their own multifaceted solutions and services, it can be a tough decision to navigate. As you embark on your search, here are some important concepts to keep in mind.
What do public and private clouds offer?
In large public clouds, tasks are run on virtual computers hosted by the vendor on physical servers. The user has neither control over nor access to the physical infrastructure, while its security is the remit of the cloud provider. However, the security of the virtual computers and applications are placed in the hands of the user.
Private clouds provide the same service, but instead of offering metered services to the world at large, services are made exclusive to internal customers and organisations who subscribe to them. The services are behind a strong security wall which, along with the infrastructure, are managed and controlled by the cloud provider.
While large public and private cloud providers claim to offer comprehensive services, they often only supply the infrastructure. This leaves users to equip themselves with their own software and an extensive skill set in code onboarding and optimisation, job queuing, file sharing and security in order to effectively leverage the HPC system, all of which result in hidden costs borne by the user.
A comprehensive solution to your cloud-computing needs.
In "as a service" (aaS) offerings, the whole service is provided, secured and maintained by the vendor. Cloud-based HPCaaS offers the user the full HPC stack, which includes trimmings typically unavailable in public or private clouds – high speeds with low latency, innovative storage systems, expert support and measures of data sovereignty – all configured to the user's specific computing needs.
HPCaaS is ideal if you lack the resources, time, and expertise to set up and configure the virtual machines, manage workflows, optimise your software for the hardware and oversee the security. It affords you greater system flexibility as it dynamically allocates resources for each task while maximising productivity, without the need for dedicated hardware resources per application. Ultimately, you only pay for the capacity you utilise, eliminating any upfront capital investment.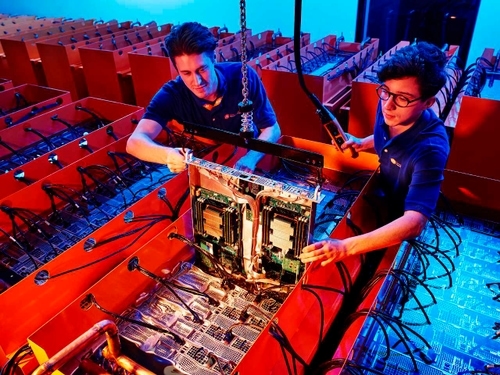 DUG Technology offers a client-focussed solution.
Perth-headquartered DUG Technology offers private HPCaaS – pure performance in a secure, fully-provisioned and fully-supported environment, run on a scalable compute platform with patented green technology that slashes overall power consumption by more than half. All you need to do is provide your data and a team of world-class research scientists, mathematicians and software engineers are available to get your project up and running quickly and cost-efficiently.
Coupled with professional services such as code optimisation, algorithm development and on-demand software support, DUG's unique offering allows you to divest yourself of time-consuming onboarding so that you can focus on your science goals and support your broader range of business applications – everything you need to be successful.
Read more about DUG's high-performance computing as a service here.
Read more about DUG's plans to build the world's first climate-positive data centre here.